Hotel booking information

We will serve you rooms on the conference venue 'Awara Onsen Seifuso' with special rates. The booking is handled by JTB.
If you like to stay in the other hotel, please book it by yourself.


Price list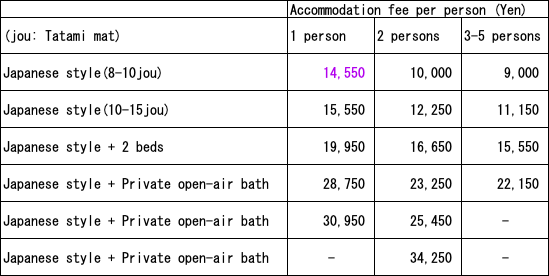 Remarks:
- This prices are including breakfast and tax.
- Additional 3,300 yen will be charged on October 8th because of a national holiday.
- The numbers of rooms are limitation. We recommend to book your room as soon as possible.

- In the case of Japanese-style rooms, it is usually desirable for groups or families to share one room for several persons. (If possible, please consider it. Thank you for your cooperation.)

Photographs of rooms in Seifuso:
Please click [here] (japan-guide.com) to see photographs of rooms, hotsprings, foods, etc. in Seifuso.


Instruction of Japanese-style hotel and hotspring
Japanese-style room
Instruction of Japanese-style room is [here] (japan-guide.com).

Yukata
Yukata is a traditional bathrobe and loungewear.
Instruction of Yukata is [here] (japan-guide.com).

Onsen (Hot spring)
Instruction of how to take Onsen (Hot spring) is [here] (japan-guide.com).